MOBILITY SURVEY: ZUIDAS SCORES 7.3
Every year, the Task Force Bereikbaarheid Zuidas, partner of Van A tot Zuidas*, conducts a mobility survey among area workers, students and residents. This year's survey included an additional focus on bicycle users. Survey data provide insight into current issues and bottlenecks for area users and, this year, into where bicycles fit in the local mobility landscape and employer policies. Results of the Zuidas Mobility Survey give the organizing partners useful information for shaping their own policies and measures and so to continue working on making the district a pleasant and sustainable place to live, work and visit.
Modalities and access scores
People who work in Zuidas give their commute an average score of 7.3. This figure is slightly higher than in pre-Covid-19 surveys, but lower than in 2020 (during the pandemic). Walking or riding by bike/e-bike or moped all got higher than it was average scores. It seems likely that the unusual situation created by the pandemic is still impacting these survey results. Where the Covid period saw a big drop in negative motorist feedback about congestion (as there was less traffic), this time congestion was mentioned almost as often as before the pandemic. As well as gridlock on motorways, many respondents also cited traffic in and around Zuidas, especially on De Boelelaan. Cyclists also report an increase of traffic. Not only other types of traffic at junctions, but notably on bike lanes themselves, with respondents complaining about groups of bicyclists, such as school kids. Bottlenecks were reported particularly at the Parnassusweg tram stop. Bicycle users identified a variety of areas for improvement. Most-cited were 'problems when crossing the road' as well as 'quality of the infrastructure' and 'safety'. The intersection of De Boelelaan and Parnassusweg was repeatedly mentioned as a problem area.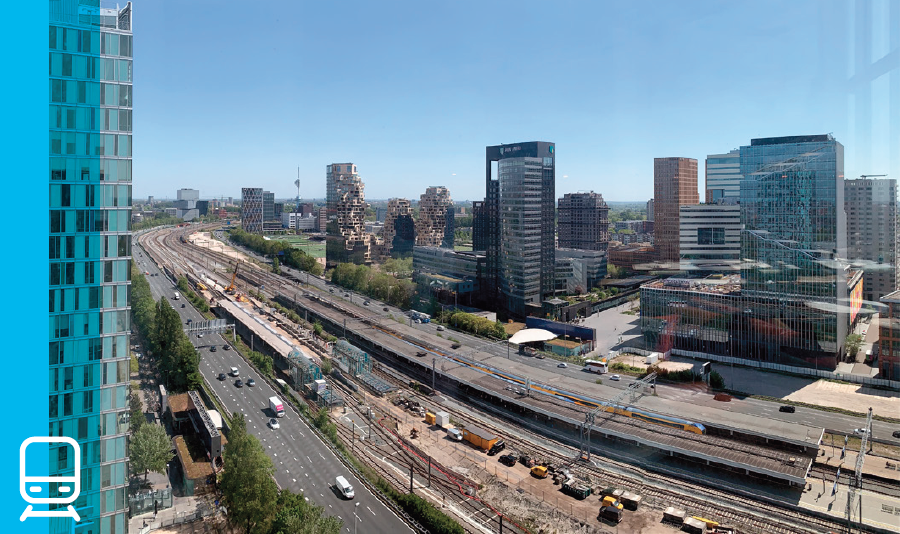 Old habits die hard?
Overall, it seems we still prefer to travel during traditional peak hours and use the same mode of travel as in the prepandemic situation. This was reflected in journey distribution over the full range of modalities, which generally corresponds to the 2019 results from before Covid. In the 2020 Covid edition of this survey, almost 40% of respondents commuted by car; now this figure has restabilized at approximately 23%. Among motorists, 40% said they would not consider leaving their car at home more often. Some 20% of commuters who live within 2.5 km of their workplace drive by car. Among those who live around 15 km or less from their workplace, the largest share commute by bike, and a relatively large number travel by metro. Bicycle commuters cited health and journey time as their main considerations. Public transport users cited sustainability.
Parking
More than 80% of motorists park in a car park belonging to their office or paid for by their employer. Car users do not like parking farther away. This correlates with the finding that people are less likely to combine different modalities in a single commute. Among bicycle users, 70% park their bikes at their workplace or else in a public bike shed or racks or along the street. Public bike sheds and racks scored well, at 8.3. Bike facilities at employers received both good and bad marks for capacity. Most of the negative feedback related to configuration of the facilities, but the locations mostly rated well.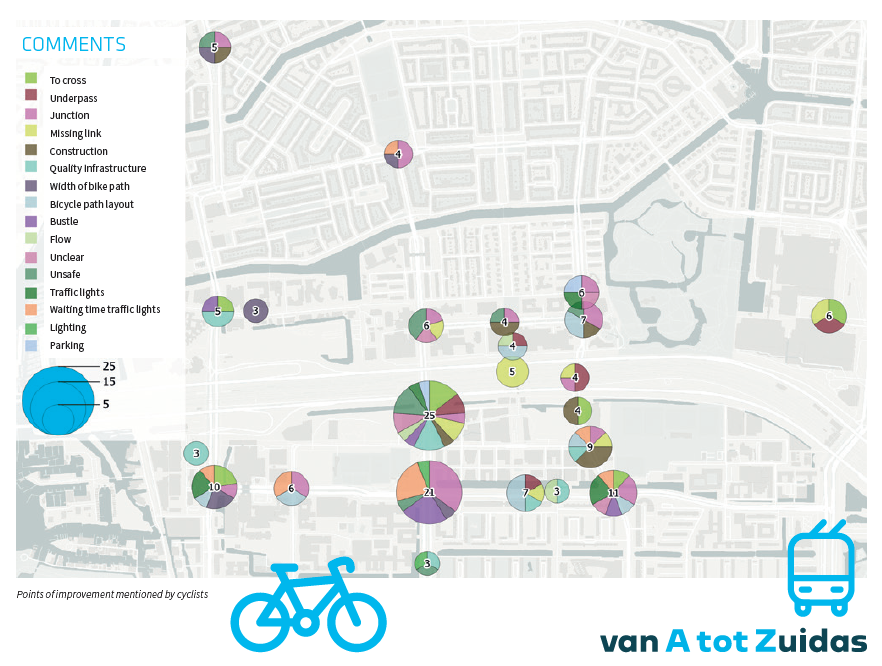 Spread is all!
Hybrid working has clearly gained ground. However, the extent varies between sectors. Many respondents said they would like to carry on working from home part of the time, post-Covid. The standard working day still starts around 8.30 in the morning and ends around 5.30 in the afternoon. However, 50% of workers said they would be willing to commute earlier or later. This is good news in terms of the ambition to spread out local traffic flows, though it still poses a challenge for employers. The traditionally busiest days haven't changed since before Covid, so Monday, Tuesday and Thursday are still the most popular days to work in the office. Spreading office commutes out more over the week would positively impact access to Zuidas.
* Van A tot Zuidas is a joint initiative of the Green Business Club Zuidas, ORAM, Task Force Bereikbaarheid Zuidas, Amsterdam Zuidas, Breikers and Hello Zuidas