MAJOR WORKS AT AMSTERDAM ZUID STATION
A4 and southbound A10: 8-day closure in August
The south end of Amsterdam will experience major traffic disruptions from the night of Saturday 5 August through the morning of Monday 14 August 2023. During this period, the A4 and southbound A10 motorways will be closed from the Badhoevedorp junction to the S109 RAI slip road.
Works in Zuidas
For eight days in the 2023 summer holiday, the southbound A10 will become a massive construction site. A stretch of the motorway along Amsterdam Zuid Station and a section of the rail tracks will be temporary removed to allow two large slabs to be positioned for the roof of the second station passageway. This new pedestrian tunnel runs through the embankment carrying the roadway and train and metro tracks, west of the existing station passageway.
Works postponed to summer 2023
The construction works were originally scheduled for the long Ascension weekend of May 2023, but were postponed until summer when traffic is lighter. This also affords more than one weekend to complete this large operation.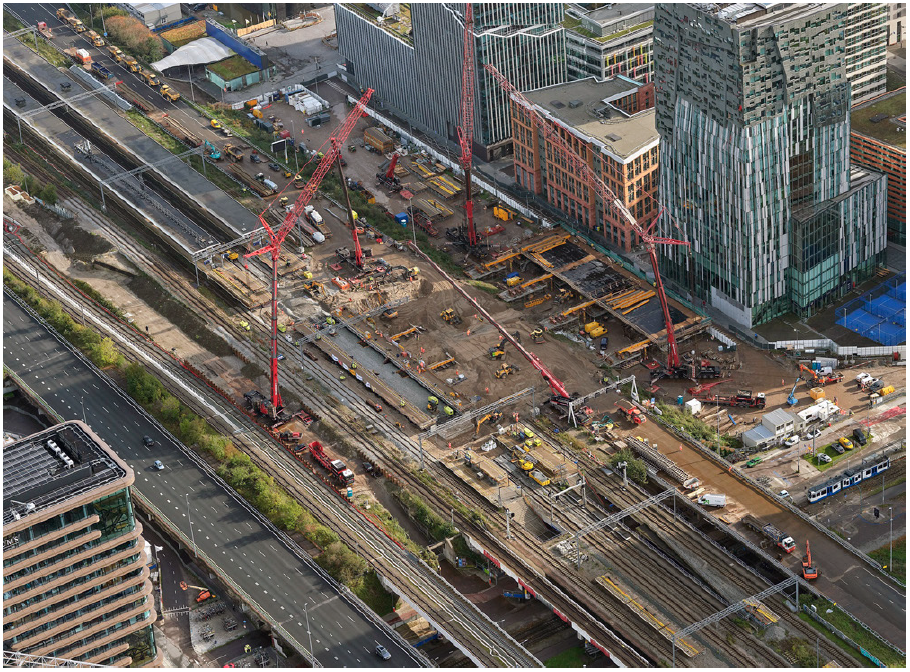 Closure in the direction of Utrecht
The A4 and southbound A10 in the direction of Utrecht will be closed from the Badhoevedorp junction to the S109 RAI slip road for the duration of the works. The closure will commence at 22.00 on Saturday 5 August and end before the morning rush hour on Monday 14 August. Traffic will be diverted via the A9 and A5 motorways. The closure has been scheduled during the summer holiday period as traffic will be lighter. Motorists should plan for longer journey times, adding up to one hour.
Access to Amsterdam Zuid Station
Amsterdam Zuid Station will remain accessible by rail, but train services will be limited. Metro services will run as normal.
New station passageway
These works are part of the Zuidasdok project. This project involves widening and tunnelling the southbound A10 underground as well as full renovation of Amsterdam Zuid Station. Construction of a second pedestrian passageway through the station is a key step in expanding capacity of this busy station. After the renovation, it will be equipped to handle traveller volumes equivalent to those at Amsterdam Central Station.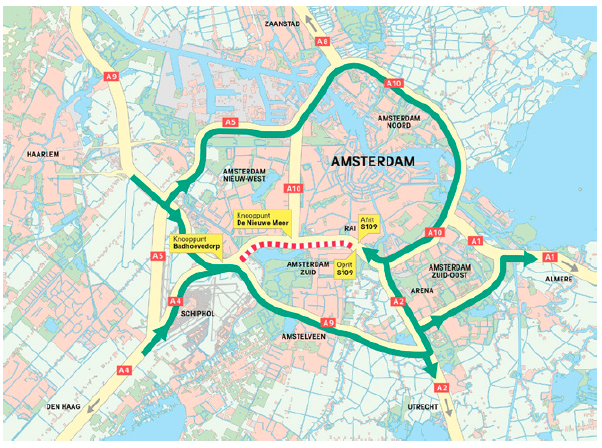 Paid parking on Saturdays in Buitenveldert and Zuidas
From 3 July, motorists have to pay for on-street parking in Buitenveldert and Zuidas on Saturdays. The parking rate is also going up to €3.90 per hour in parts of Buitenveldert, namely in: Zuiderhof, Buitenveldert Westmidden, Klenckebuurt and part of Gelderlandpleinbuurt.
Longer paid parking
Paid street parking hours are also being extended in parts of Amsterdam West, Oost and Zuid. In Kolenkitbuurt in West, paid parking will be extended to 21.00. In Transvaal, Dapperbuurt and Indische Buurt in Oost to 24.00. And in Schinkelbuurt, Willemsparkbuurt, Apollobuurt, Stadionbuurt, Prinses Irenebuurt and Rivierenbuurt in Zuid also to 24.00.
More space
Space is at a premium in Amsterdam. To maintain the quality of urban life, the city wants to reduce on-street parking for cars. This will create more space for inhabitants and less parking congestion. Income from paid parking will be invested in urban upkeep.