"GREEN IS THE WAY FORWARD, IF YOU ASK ME"
Eric Junge, chair of the Vereniging Groengrijs, will be providing green bus transportation to and from the awards ceremony. His organization offers affordable day trips by coach for Amsterdam residents.
Eric, could you tell us more about your organization?
"We're run entirely by volunteers. Ten years ago I visited an open day at a care centre in Zuidas where the management were complaining about scarcity in care and the lack of money for fun activities like day trips. I had only just renewed my heavy vehicle driving licence, but wasn't sure why I was even bothering. Whilst talking with the care centre staff, I had the idea to buy a bus to take residents about."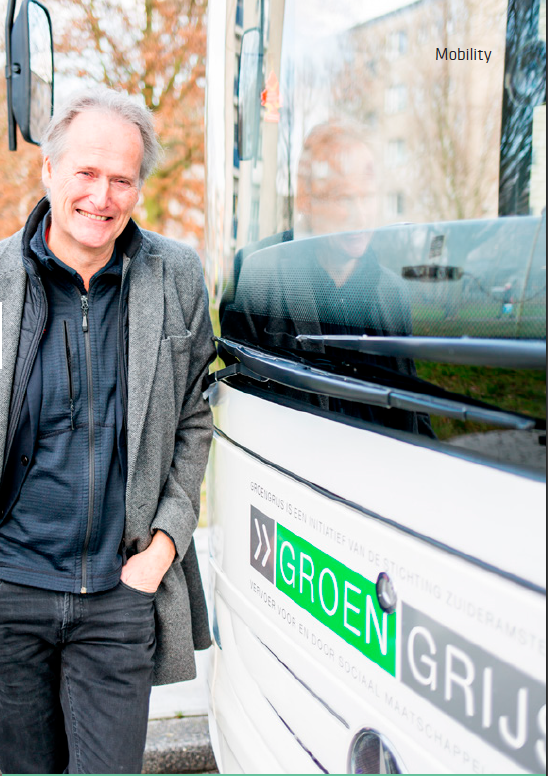 It's such a brilliant initiative. How did it go from there?
"With a modest subsidy from the Zuid district and some funds of my own, I eventually bought a coach with a wheelchair lift and was able to make the first trip in mid-2011. Now we have ten buses, one of which is a zero-emissions bus from Norway. We have more than fifty voluntary staff with whom we organize around 200 day trips a year to all sorts of destinations in the Netherlands and abroad. Including in this electric bus, called 'Noor' – we name all of our buses. With a range of 300 kilometres, Noor is best-suited for excursions in and around Amsterdam. A zero-emissions bus had always been on our 'nice to have' list, because as well as working to prevent isolation and promote social cohesion, we also aim to be sustainable. But with the tightened environmental rules, Noor became a 'need to have' for us to be able to operate inside Amsterdam's A10 ring road. After 1 January 2025, fossil-fuelled buses will be banned from Amsterdam. We're running a six-month pilot now and then we'll decide whether to buy more electric buses. So far, trips with Noor have been a big hit."
Is there anything else you'd like to share with readers of Hello Zuidas?
"GREEN is the way forward, if you ask me. I'd like to invite readers of Hello Zuidas to come aboard sometime – whether as a passenger or as a guide or tour guide, or to organize a socially-minded company outing. I look forward to it!"
Visit: www.groengrijs.com for more info.
This year, Green Business Club Zuidas, Hello Zuidas and Amsterdam-Zuidas will present the first-ever Zuidas Sustainability Awards. A panel of experts will be judging all the submissions in various different categories, after which the winners will be announced on a festive event at Floriade Expo 2022 on May 17th. In this issue of Hello Zuidas we introduce you to Eric Junge from Groengrijs and their electric bus 'Noor', which will be shuttling participants to the Floriade in Almere.