CROSSOVER AM develops unique BREEAM-NL Outstanding mixed-use building in Zuidas
Zuidas is building its future in all kinds of ways. From its beginnings as a financial district, Zuidas has continued to grow and diversify into a healthy mix of small business owners, restaurateurs and residents. Among the latest approved plans now taking shape is Crossover by area development company AM, one of the very first mixed-use BREEAM-NL Outstanding and WELL Core-certified buildings in the country. Peter Heuvelink, director of AM Noordwest, and Raymon van Miltenburg, AM management board member, filled Hello Zuidas in on all the details of this new addition to the north end of Zuidas.
Mixed use
Mixed-use concepts for Zuidas started to emerge on the drawing board in 2016. Since then, construction of the first plan has kicked off and completion of Crossover is scheduled for 2023. The development includes 130 residential units: 120 starter rental apartments and 10 units for sale. Van Miltenburg explains, "This is one of the very first mixed-use projects in the Netherlands to be awarded a BREEAMNL Outstanding certificate for the whole building. On top of that, and rather unique for offices, is its WELL Core certification, which centres on the health of future users of Crossover." These certifications have already become an important part of office market development. But for social rental housing, Crossover's BREEAM-NL Outstanding rating is nothing short of exceptional.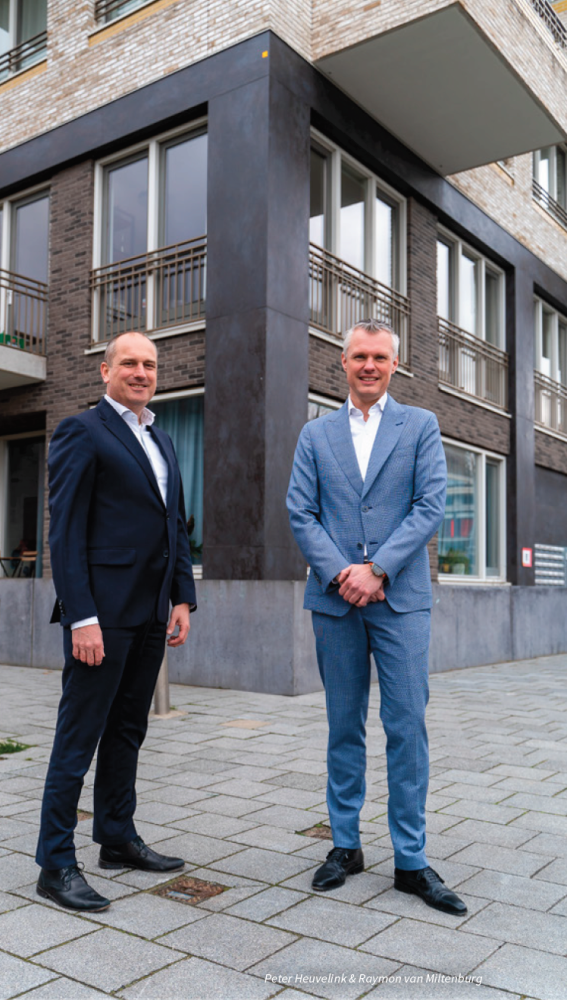 Healthy living and working
AM set high stakes for itself by starting construction before taking any tenants or investors on board. De Key, a housing association, has already signed for the 120 rental units. "This project is unique because it integrates social housing and premier office space in a single building", Heuvelink points out. "For Crossover, De Key will be doing five-year rental contracts. That will keep the area dynamic." The offices are being developed in such a way that different floors can be divided between multiple tenants. That's also part of why AM elected not to sign with tenants yet, since small to mid-sized business owners tend to need space in the near future. For those businesses, Crossover offers great potential for attracting the right workforce and customers in a sustainable setting in Zuidas. AM believes inclusive cities are the future, Van Miltenburg stresses. "Three of our five CSR themes are integrated in Crossover: healthy urban living & working, the inclusive city, and bold sustainability. These themes are central to our development process for Crossover. We've raised the bar high here, and by working with all stakeholders we're turning this part of Zuidas into an exceptional and quality-rich environment in which to live, work and play."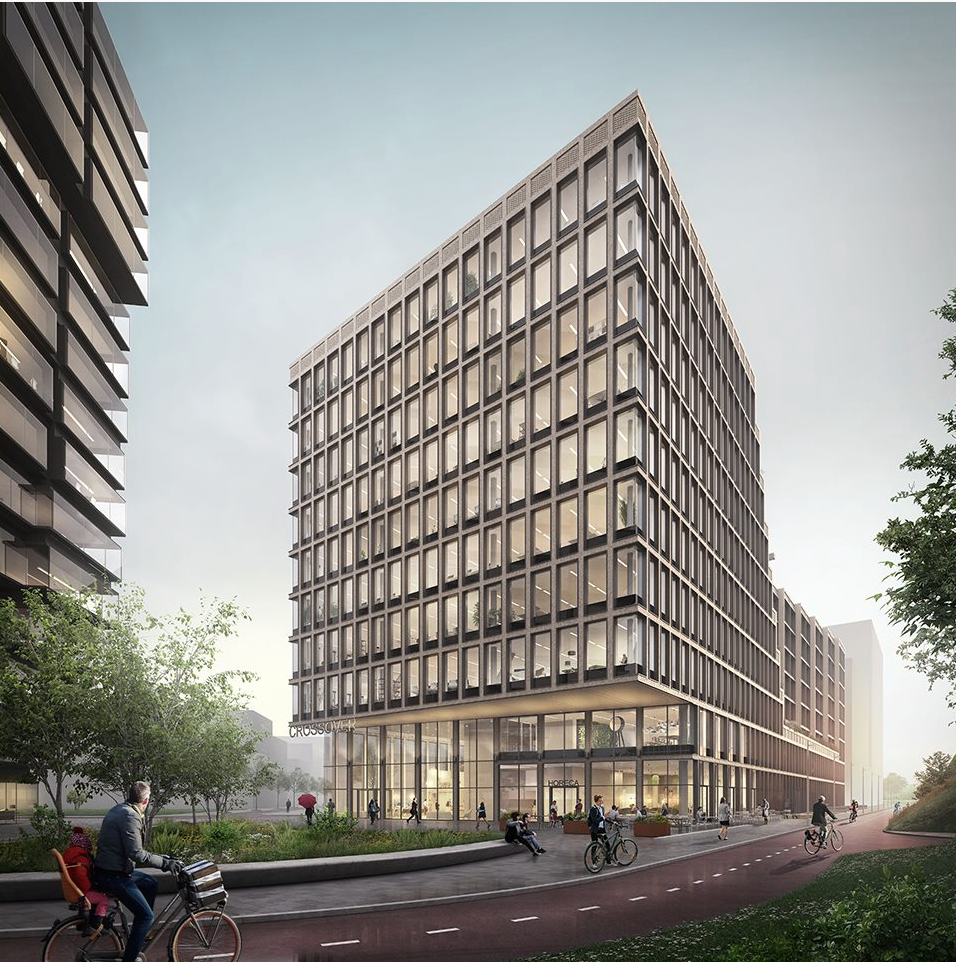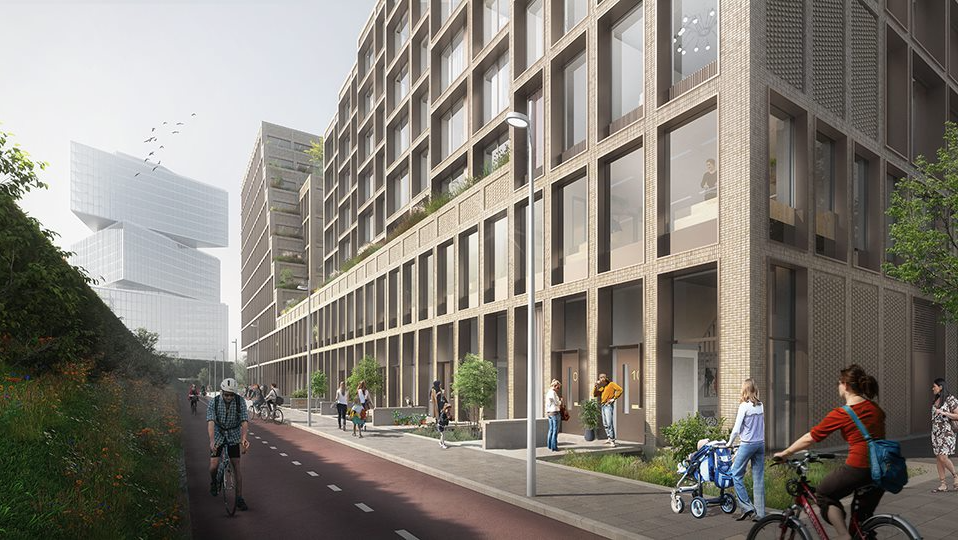 Forward-thinking
In the 'war for talent', organizations are thinking a lot more these days about how they're contributing to society. Heuvelink: "The younger generation values a forward-thinking approach to social issues and sustainability, so it's important for AM to develop sustainable and healthy buildings. If a company can say their office is located in Zuidas and has both BREEAM-NL Outstanding and WELL Core certifications, then that's a tremendous advantage for attracting talent." Crossover will have 12,000 m2 GFA for offices, with approximately 500 m2 on the ground floor reserved for a social/community function. Facing the bustling new square will be 350 m2 for street-side restaurants and cafés. Also unique are the green terraces at each office level – which will be open to the public – and the rooftop terraces for residents.
Co-living
Another new aspect of Crossover is the concept of co-living. Creating connections is a mission AM aspires to in all its projects, Heuvelink says. "The layout of the building facilitates spots where people can congregate and that residents can make shared use of. For the rental housing, that lets us create more space with an extra dimension and opportunities for interaction. With Crossover, AM is underlining the community aspect of Zuidas." The building will also offer smart mobility solutions. Residents and tenants can take advantage of share cars, loan bikes and more. "We're incredibly excited about that!" Van Miltenburg affirms.