Hello Zuidas works towards an attractive Zuidas for everyone.
Attention music lovers! On Saturday 19 September the Record & CD Fair will be held at RAI Amsterdam.
Op 18, 19 en 20 september zal in Amsterdam Zuid de derde editie van het festival De Muze van Zuid plaatsvinden.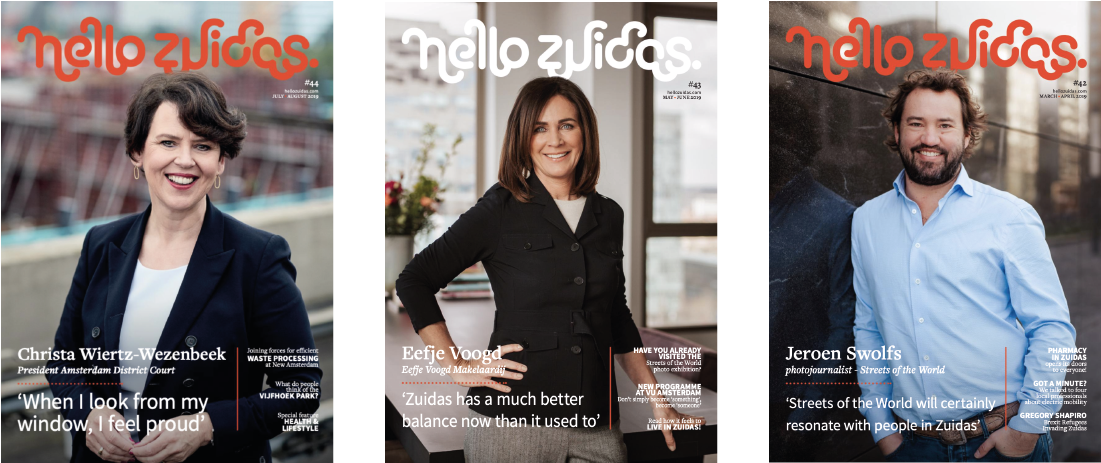 Hello Zuidas Magazine
Zes keer per jaar geeft Zuidas Publishers het Hello Zuidas Magazine uit. Dit magazine wordt gratis overal in Zuidas en in alle winkelstraten van Amsterdam Zuid verspreid. De oplage van Hello Zuidas is 20.000. Members en niet members hebben de mogelijkheid om te adverteren in het blad. Als u daar meer informatie over wil, kunt u contact opnemen via info@zuidaspublishers.nl.
Hello Zuidas App
Hello Zuidas App geeft informatie over alles wat er in de Zuidas gebeurt: het laatste nieuws, evenementen, horeca, winkels en nog veel meer!
Zuidas ontwikkelt zich snel, van een high-end business district naar een volgroeide en diverse Amsterdamse buurt met hoogwaardige woonvoorzieningen en met internationaal toonaangevende bedrijven en educatieve instellingen binnen handbereik. Grootschalige innovatie van de infrastructuur zal de komende jaren leiden tot de ontwikkeling van Zuidas als nieuw stadscentrum van Amsterdam, minder dan tien minuten verwijderd van Schiphol en Amsterdam CS.
Download de app gratis voor iPhone & Android!