Uber choses city campus from project developer Flow
The monumental Tripolis complex on the A10 in Amsterdam is being redeveloped by project developer Flow into a bustling city campus, Tripolis-Park ™. The main tenant will be Uber with its international head office taking into use 30,000 of the available 45,000 square meters. In addition to offices and facilities, there will also be affordable rental apartments on campus. Construction will start next week and will take around 2.5 years.

Verdi Zuidas
Tripolis-Park is part of the Verdi Zuidas plan area, located between Amstelveenseweg, Schinkel and Nieuwe Meer. In this area, the municipality of Amsterdam focuses on connecting, compacting and greening. The municipality's plans are based on an attractive mixed area with around fifteen hundred new homes. The new name Tripolis-Park ™ symbolizes the addition of a lush green landscape at ground level and the activated roofs of the current Tripolis buildings.

Tripolis
Tripolis was designed by Aldo van Eyck in the 1990s and was recently designated as a municipal monument. Commissioned by Flow, architect Winy Maas, co-founder of MVRDV, designed Tripolis-Park with the guiding principle of protecting and embracing the iconic existing towers to which a spectacular new 'land scraper' along the A10 will be added. Innovative and creative adaptations to the existing towers transform them into attractive and efficient office space. In combination with the new building, this forms the basis for a green, healthy and energetic urban oasis, aimed at innovative companies and entrepreneurs. One of the existing office buildings, which will soon be located in the low-noise inner area, will also be transformed into a residential building with affordable rental apartments.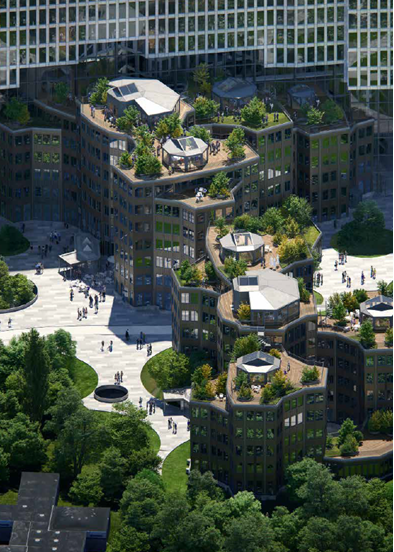 In September 2017, Flow, together with real estate funds managed by Blackstone, purchased the Tripolis complex. The parties are proud to use the capital provided for the long term in a meaningful way to make this complex inner-city project possible.

Sjoerd Lycklama, Partner at Flow: "Together with the municipality of Amsterdam, we are ready to transform Tripolis into a vibrant, eco-conscious campus, focused on innovation, high quality of use and health. Tripolis-Park offers Uber and its employees a fantastic workplace and will become a special hub for innovative companies in Amsterdam. "