The ambitious St Nicolaaslyceum is a school for secondary-level general and university preparatory as well as bilingual education. Situated at a cross-section between the city, park and business district, the school is uniquely positioned to pursue its vision for civic-minded education.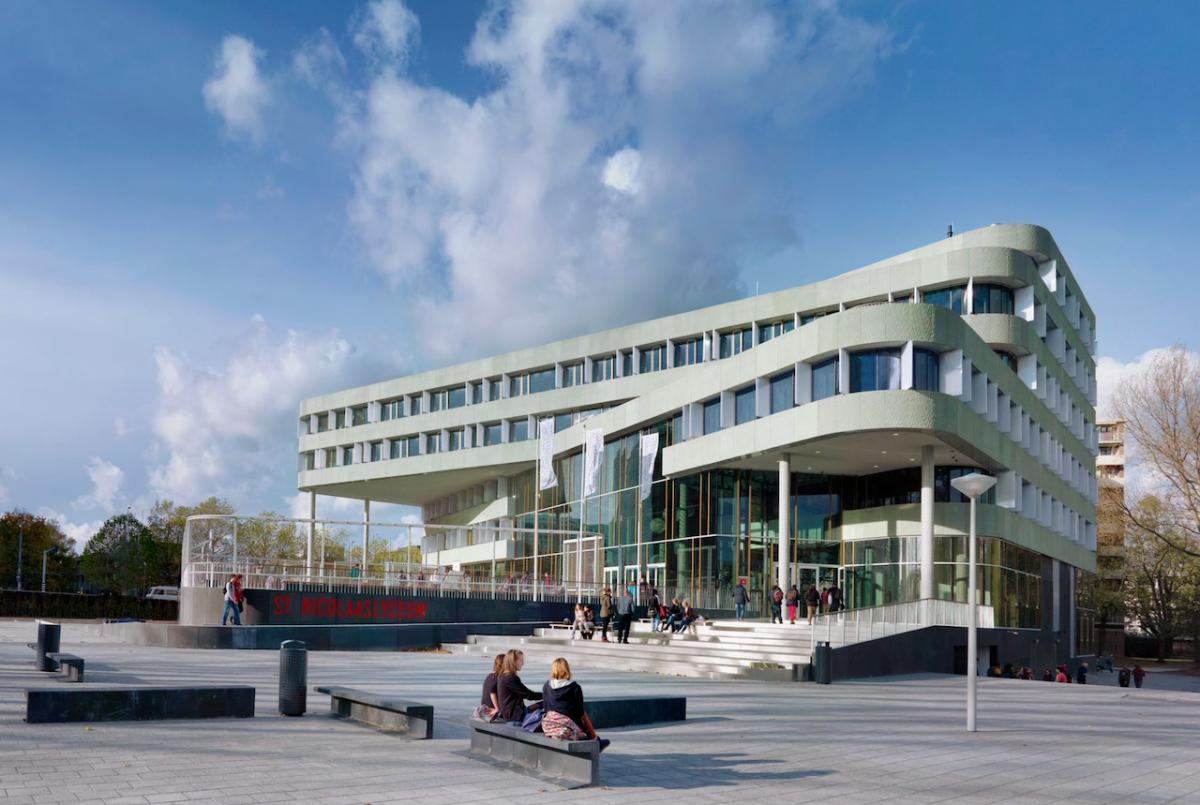 The original St Nicolaaslyceum was built in 1955. By 2007, the old premises were no longer up to modern education standards. So the client – Stichting V.O. Amsterdam-Zuid – commissioned a new building, of which construction commenced in the winter of 2010. Central in the schedule of requirements was the school's own vision on education, necessitating a building that would not only feel safe and familiar for pupils, but one that, by virtue of its layout and character, would also encourage and fuel discovery-based learning.
The design of the new building accordingly became an opportunity to embody this educational vision and facilitate a fresh approach to teaching and learning. In an interactive process that included pupils, staff and technical advisers, DP6 architectuurstudio designed a spacious school building whose layout and interior would engage and incentivize pupilstowards learning.
The transparent high ground floor of the otherwise compact structure creates a welcoming feeling whilst also offering passers-by a glimpse inside. The spectacular central atrium connects the school's subject clusters across multiple floors and creates a space that is light, airy, coherent and legible. With stages, displays and exhibition walls, as well as a sport hall and basketball pitches knit into the local public space, sport and culture are integrally and visibly part of the building. Its characteristic transparency meanwhile fosters connection, collaboration and engagement among pupils and staff.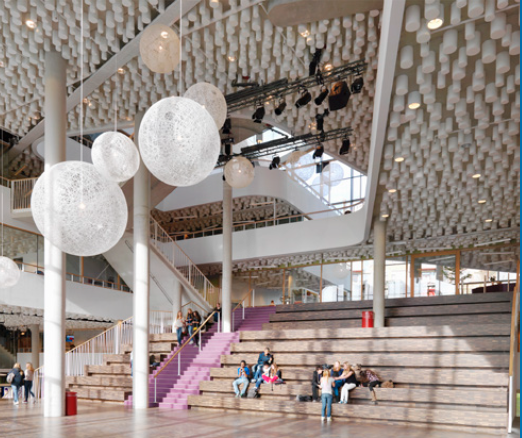 Facts
• The special school building has been nominated for numerous architecture awards, amongst others winning The Chicago Athenaeum museum's International Architecture Award, and was named the Royal Institute of Dutch Architect's 2013 Building of the Year in the western Netherlands.
• The St Nicolaaslyceum's sport facilities consist of outdoor athletic grounds, three large indoor gymnasiums that can be combined into one and a NOC*NSF-certified fitness room.
• Culture is also central to the school, which has music studios as well as large and small auditoriums for performances.
For additional information, please visit https://nicolaas.nl.
Address Beethovenplein 2
Architect DP6 architectuurstudio
Client Stichting V.O. Amsterdam Zuid, Amsterdam
User St Nicolaaslyceum
Opening 2012
Floors 8
Height 24 metres
Floor area approx. 12,500 square metres