Opening new hotspot for business travelers, toerists and Amsterdam inhabitants: Nhow Amsterdam RAI
Nhow Amsterdam RAI opened its doors to visitors for the first time on January 10. With 650 rooms on 24 floors, nhow Amsterdam RAI is the largest new-build hotel in the Benelux.

The building, with its iconic triangular shapes, offers a new social and multicultural meeting point for business travelers, tourists and people Amsterdam inhabitants. Hermann Spatt explains: "At nhow we believe that a hotel should be a bustling hotspot in a city; a crossroad of people, ideas, art, gastronomy and cultural adventures. We focus on tourists, business travelers and people from Amsterdam. The interior design of the iconic building symbolizes the cultural melting pot that Amsterdam has been for more than 400 years. "
In addition to the hotel services, visitors can enjoy high-quality gastronomy. The Entourage Group will soon be launching a Kitchen & Bar and Lounge & Bar on the top floor with a panoramic view of the city. There is also a bar on the first floor, a room for breakfast, lunch and dinner on the 17th floor and meeting & event services on the 23rd floor. There is a catering unit on the ground floor where Toni Loco and The Butcher will establish themselves.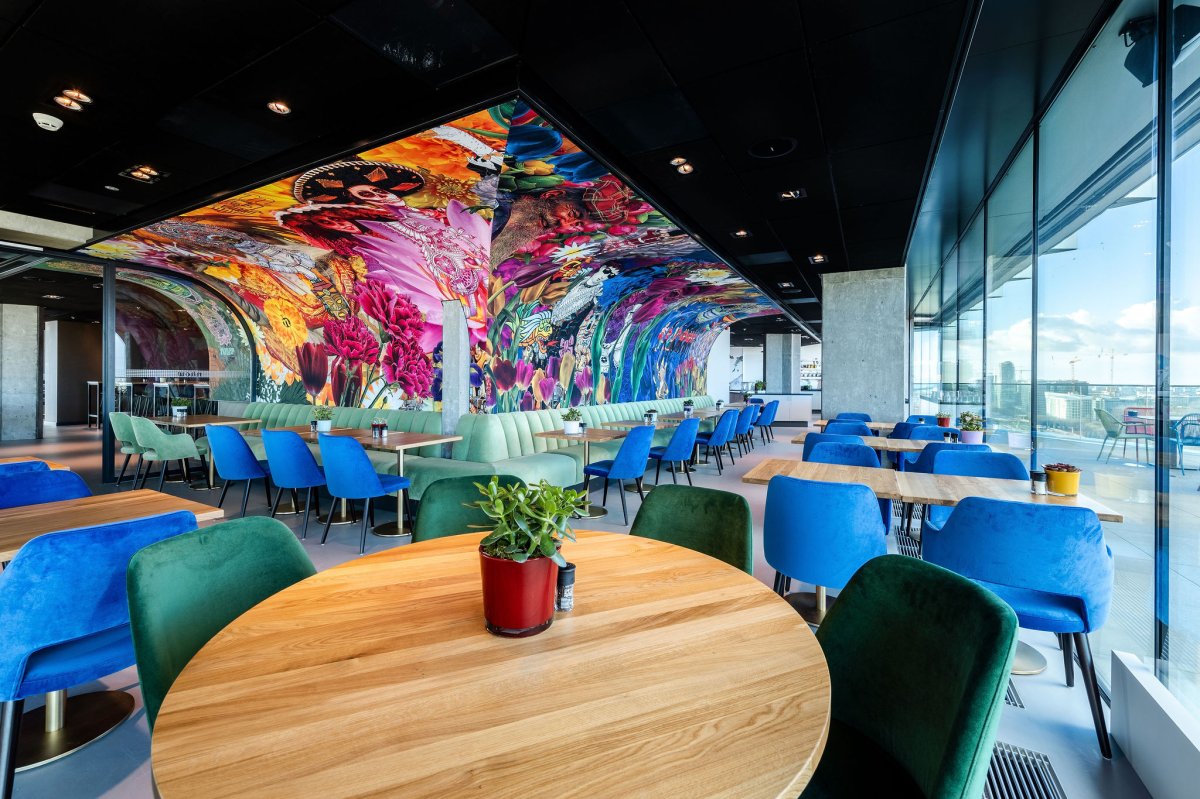 Photo: nhow Amsterdam RAI, Restaurant
The construction of the hotel rooms and other hotel-related spaces was done through a collaboration between COD and Being Development. Bas van Dam, CEO of Being Development stated earlier in an interview: "We see this fantastic new place as an important asset for the city and the RAI, which tourists, business travelers and people from Amsterdam can enjoy. The leading and challenging architecture combined with a sustainable building ensure a very positive impact on the environment. "
For more info, go to nhow-hotels.com/en/nhow-amsterdam-rai .
Here you will find a time-lapse video of the construction of the hotel.

Read the interview with Hello Magazine Zuidas Hermann Spatt before the opening here .