Zuidas initiatives during COVID-19
These are special times. Many of us are currently forced to get used to a situation without social contact, appointments via email and conference calls via apps that we had never heard of a week ago. It is a difficult period for entrepreneurs in Zuidas. But in times of crisis, the entrepreneurial spirit of the Zuidas companies shows itself as never before.
We would like to draw your attention to beautiful initiatives in Zuidas where you can still go!

We try to keep our website as up-to-date as possible, but it is possible that initiatives have already changed in the meantime.
Delivery & Takeout options
A good example of local involvement is this

residents' initiative

. Via a specially designed

website

they share the menus of local entrepreneurs so that ordering can be done faster and easier.

Restaurant Het Bosch

has started the delivery service Het Bosch @ Home. From now on you can

place your orders between 10:00 am and 6:00 pm

via

this link

or by telephone (020) 6445800.

Restaurant Limon

delivers at home or at the office. You can order by telephone, whatsapp or email: (020) 2331632, 06-34563644, 06-52406505, info@limon.amsterdam. Contactless payment. Delivery between 11am and 9pm. The menu can be found via the page of the residents initiative above.

Urban Salad Amsterdam Zuidas

is open for takeout and delivery of food. You can place your orders via Thuisbezorgd.nl, foodsy.app, ubereats, ritual_co and deliveroo.

Market33

(Thats Amore & Grizzl) now deliver food. Group orders can be emailed to hello@market33.nl and smaller orders are delivered and delivered at home. The menu can be found via the page of the residents initiative above.

Wagamama

delivers meals. Orders go through ubereats.

Sushilee

is open for takeout and delivery of meals. You can order via ubereats. The menu can be found via the page of the residents initiative above.

Leonidas

delivers orders until 4 pm. You can order via 06-47630451. The menu can be found via the page of the residents initiative above.

Poké Perfect

in the WTC is open for takeout and delivery services, you can order via ubereats and Thuisbezorgd.nl.

Back Food delivers meals. Orders can be placed via catering@back-food.nl . Look for the menu on

the page of the residents initiative above.

Mizu Bar

provides meals. Orders go through

Thuisbezorgd.nl.

The menu can be found via the page of the residents initiative above.

HappyHappyJoyJoy

can be ordered via ubereats and deliveroo.
Currently open
Wineboutique & Spirits Zuidas Amsterdam

offers support to Zuidas entrepreneurs for home deliveries or deliveries to offices. They can be reached via www.wineboutique.eu or on (020) 4705414. They are themselves open on weekdays from 11 am to 7 pm.

Noé Boulangerie

keeps her shop open until stocks last. Opening hours have been adjusted to ensure the safety and health of everyone. Current opening hours for the location in Zuidas are: 08.00-14.00, 7 days a week.
Other initiatives
Clubsportive

offers home sports classes via its

Instagram account.

Hestia Childcare

on the Uiterwaardenstraat in Amsterdam and on the Laan van de Hende Meesters in Amstelveen keeps its branches open for the care of children between 0 and 12 years of age with crucial professions. Look for more information on this site .

Htel Amsterdam

(minimum 7 days stay) and

Htel Amstelveen

(minimum 3 days stay) has availability for employees working in Zuidas at a reduced rate from € 89 per apartment (maximum 2 people). The apartments are equipped with kitchens. For reservations and more information mail to sales@htelapartments.com .

Mobeazy

makes available until 6 April 3 shared cars (Barbara Strozzilaan 101 - 201) with a 25% discount. You can take advantage of this promotion by downloading the Mobeazy app. Contact us via sven@mobeazy.nl to link your company details to your account to be able to drive on account. Naturally, the shared cars are equipped with disinfectants.

Expat Center

can inform companies and their expats about what is going on at tel. 0900-9811

Bagels & Beans

closed its branches until April 6. The sites are now committed to donating their supplies to food banks, health care facilities and the Salvation Army.

Pancakes Amsterdam

donates its supplies to fire brigade, homeless projects, shelter for the homeless and many others.

HappyHappyJoyJoy

sells

gift cards

that can be used as soon as they open again.
Would you also like to share an item with us? Mail to news@hellozuidas.com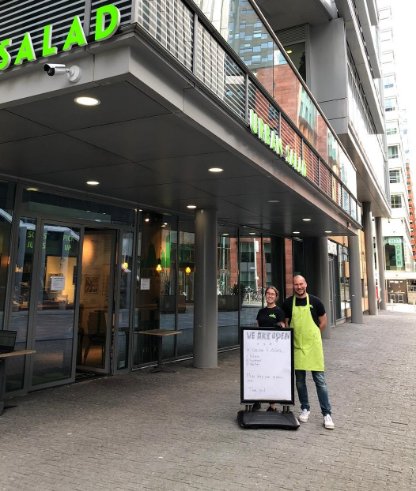 Urban Salad is open for collection and delivery